Before and After Denture treatment
Your new teeth are able to drastically change the way you and others look at your smile - and as you can see, that's not always a bad thing! All the pictures below are from past work that our clinic has done.
Patient needed a partial as they only had the 6 anterior teeth remaining. Fabricated a partial lower denture with clear clasping so that the clasps would be less visible and noticeable.
Immediate Partial Upper Denture
Patient had 3 anterior teeth extracted, this prosthesis was made before hand, therefore, patient was never without anterior teeth.
The top photo is the AFTER and the lower photo is the BEFORE.
patient had a couple of teeth extracted and teeth were added to her partial.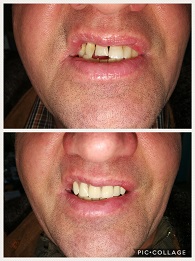 Immediate Partial Upper Denture
Patient had anterior teeth extracted.
Immediate Upper & Lower Dentures
Patient had all of their teeth extracted on both arches, and had these dentures ready before hand, so that as soon as the teeth were extracted the dentures could be inserted. Patient did not ever go without teeth.
patient only had 2 anterior teeth missing